Contact Information
Email:
jumpsations@hotmail.com
Anita Casella— Junior Jumpers Program Director
Debbie Sedore-Walton— Workshop Coordinator
2018 FALL RECREATIONAL PROGRAM
| | |
| --- | --- |
| Dates: | Registration dates are Monday, September 24th, 2018 and Monday, October 1st, 2018 from 7 pm to 8:00pm at Templemead Elementary |
| Time: | Wednesdays, 6:30 pm to 7:30 pm (First Recreational session is Wednesday, October 3, 2018). The program will run 10 weeks. |
| Where: | Templemead Elementary School, 62 Templemead Drive, Hamilton ON, L8W 3Z7 MAP |
| Cost: | $90 (includes a skipping rope and a t-shirt) |
In this one hour program, jumpers, ages 6 to adult, use a variety of ropes (single, beaded, double dutch, Chinese wheel) to learn new freestyle tricks alone, with partners or as part of team. Jumpers are coached by members of our competitive team many of whom were once part of the recreation program. Jumpers can expect to build their skills and have fun at the same time!
Thank you to all of our participants and coaches for a successful winter program! Our next recreational program will begin in early October with registration taking place in late September. Information regarding fall registration will appear on this site as soon as it becomes available.
Health Benefits
improved cardio-vascular fitness
increased muscular strength
better endurance
improved body conditioning
greater flexibility
improved co-ordination
stronger bones

Additional Benefits
team building and cooperation
increase in self esteem through mastering new skills
fun and educational
opportunities to be creative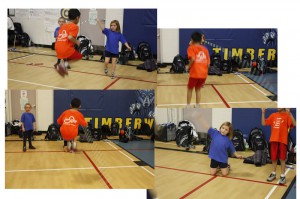 Skills Improved
timing and rhythm
balance and agility